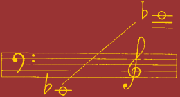 Name: María Ballarena Belzunegui.
Born in San Sebastián.
Soprano Maria Ballarena studied music at the Conservatorium of Bayonne (France) and in the Higher School of Music in Madrid.
Soon after she recorded her first CD of Spanish, Italian, and Latin-American Songs with the renowned Pianist Juana Peñalver on the piano.
Since then she has worked with a number of renowned Maestros including Feliz Lavilla and Miguel Zanetti while accomplishing a number of international interpretation technique courses with the famous Magda Olivero.
She later on moved to Milan-Italy where under maestro Giovanna Canetti, Scala Academy, she perfected her repertoire of Verdi and Puccini.
In 2001, Soprano María Ballarena recorded her second disk; a CD titled "María Ballarena in Recital". María was accompanied on this CD by the prestigious Aizkoitain pianist Alejandro Zavala. The CD was well received, with numerous critical reviews.