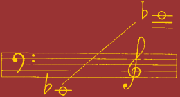 Imprint
Publisher:
María Ballarena Belzunegui.
c/ Easo No8-3o izquierda.
E-20006-Donostia - San Sebastián
Web-Authoring:
woodshed productions
Translations:
DonostiNET Donostia - San Sebastian
Copying, and/or any other publishing in any medias, for privat and/or commercial use, is prohibited unless it is allowed by owner of ©.
Disclaimer for Hyperlinks
On this site you will find hyperlinks to other sites of other Authors at other places in the WWW. Altough I prooved these sites before linking, I am not responsible for the content on these sites. In case someone finds illegal content or any other reasons to abuse on these sites linked by me, I would like to be informed by Mail. I will delete such links.
---
Written in XHTML 1.0 and CSS 1.0 with NEdit under Linux. PHP-Scripts written by Harald Laabs. In case of any difficulties by rendering these sites, don´t hesitate to inform me.